Hippodamia tredecimpunctata (Linnaeus, 1758) subsp. tibialis (Say, 1824)
Edit
Arthropods (Arthropoda)----Insects (
Insecta
)---Beetles (
Coleoptera
)----Polyphaga---Cucjoidea---Ladybirds (
Coccinellidae
)---Hippodamia----H. tredecimguttata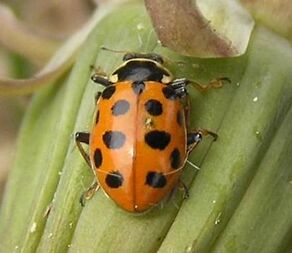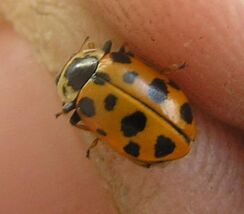 The Thirteen-spotted ladybird used to be much more common before the Seven-spotted ladybird was introduced, today it is uncommon but can still be seen on blades of grass and low plants in field and meadow habitats. This beetle is a bit more elongated than other well-known species, and the spots are quite variable; sometimes a few spots may be fused, sometimes not at all.  Another unusual trait is that the Pronotum pattern is just as variable as the spots, normally in ladybird species the pronotum pattern is always exactly the same. Exactly the same species can be found in Europe, in England it is very rare and can be found in wetland habitats.
4-7mm.
Fields and meadows (normally damp) and marshy habitats; check blades of grass and low plants, in short-cut fields check dandelions and other low-growing plants.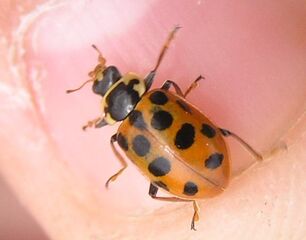 Ad blocker interference detected!
Wikia is a free-to-use site that makes money from advertising. We have a modified experience for viewers using ad blockers

Wikia is not accessible if you've made further modifications. Remove the custom ad blocker rule(s) and the page will load as expected.