Malachius aeneus (Linnaeus, 1758)
Edit
Arthropods (Arthropoda)---Insects (Insecta)----Beetles (Coleoptera)-----Polyphaga----Cleroidea----Soft-winged Flower beetles (Melyridae)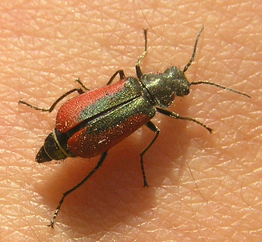 This is a fairly common species in the Spring-Summer time of year in Alberta, it can turn up in any roadside meadow. In Europe the same species is rare and protected under conservation, maybe they should bring some over and add more to the environment? There is probably a problem with doing this, otherwise they would have done it by now (probably).
Red is an unusual colour in beetles (apart from Ladybirds) so these are quite unique in that way. The dark patch in the center of elytra reflects greenish light when the sun or any other light source is positioned right.
6-7mm~.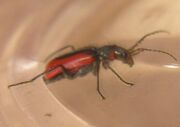 Ad blocker interference detected!
Wikia is a free-to-use site that makes money from advertising. We have a modified experience for viewers using ad blockers

Wikia is not accessible if you've made further modifications. Remove the custom ad blocker rule(s) and the page will load as expected.