Ctenicera aeripennis (Kirby, 1837)
Edit
Arthropods (Arthropoda)------Insects (Insecta)-----Beetles (Coleoptera)-----Polyphaga----Elateroidea-----Click beetles (Elateridae)---Prosterninae----Ctenicera----C. aeripennis
This species is sometimes called Selatosomus aeripennis, apparently the genus Ctenicera was disbanded some time ago but it is still widely used, so thats what I use here.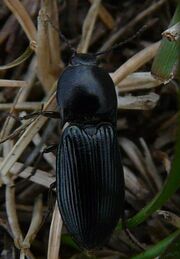 This is one of the more beautiful Click beetles, like Ctenicera resplendens. The amount of blue lustre is very variable, with ones like mine which are pretty lacking and then ones like this one.which are quite simply the most beautiful beetles in Alberta. The two species are tied for the most beautiful, but it probably has to go to the Resplendent because they are always a bright copper, green or a combination of both unlike the Sapphire-winged which can be black with no lustre. In the prairies these become a pest and these individuals are much smaller and duller than the typical bright blue ones. Sometimes they have been thought of as a new species called C. destructor or the Prairie Grain wireworm, which is a fitting name for the damage the larvae do.
Ad blocker interference detected!
Wikia is a free-to-use site that makes money from advertising. We have a modified experience for viewers using ad blockers

Wikia is not accessible if you've made further modifications. Remove the custom ad blocker rule(s) and the page will load as expected.