A Mid-sized Diving beetle
Edit
Arthropods (Arthropoda)----Insects (Insecta)----Beetles (Coleoptera)----Adephaga----Predacious Diving beetles (Dytiscidae)-----Colymbetinae----Rhantus---R. sericans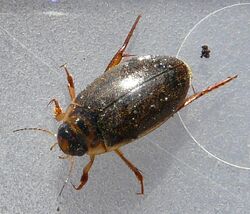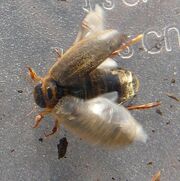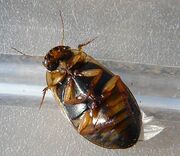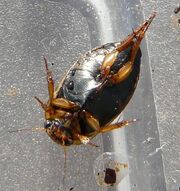 This is a quite common species in Alberta around early May, whether it is swimming in a small pond or large lake, or flying over barren wastelands. This species can bite if handled badly, a correct way of holding is on on its back in a way so it can't bite you. The "Mid-sized" diving beetles are smaller than Large Diving beetles and larger than the 2-5mm ones (as its name suggests) Need more info!
Ad blocker interference detected!
Wikia is a free-to-use site that makes money from advertising. We have a modified experience for viewers using ad blockers

Wikia is not accessible if you've made further modifications. Remove the custom ad blocker rule(s) and the page will load as expected.