Entomoscelis americana (Brown, 1942)
Edit
Arthropods (Arthropoda)----Insects (
Insecta
)----Beetles (
Coleoptera
)----Polyphaga----Chrysomeloidea-----Leaf beetles
(Chrysomelidae
)---Chrysomelinae----Entomoscelis-----E. americana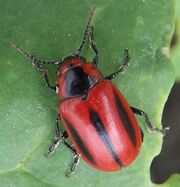 This is a very colourful leaf beetle found from late June to around September. However, its destructive eating has made its beauty ignored by alot of farmers and gardeners. Larvae and Adults of this species feed on plants at night, and have been recognized as a pest on Crucifers such as Turnips, Cabbage, Mustard and Canola.
In some (normally western) states and provinces the black bands may be wider on a few specimens. This species is native to North America unlike most pest species of Leaf beetles. In Alberta this is most commonly found from the Aspen Parkland/ around Edmonton region.
Ad blocker interference detected!
Wikia is a free-to-use site that makes money from advertising. We have a modified experience for viewers using ad blockers

Wikia is not accessible if you've made further modifications. Remove the custom ad blocker rule(s) and the page will load as expected.