A colourful flower Longhorned beetle (Casey, 1914)
Edit
Arthropods (Arthropoda)---Insects (
Insecta
)----Beetles (
Coleoptera
)----Polyphaga----Chrysomeloidea----Longhorn beetles (
Cerambycidae
)----Lepturinae----Lepturini----Pidonia----P. densicollis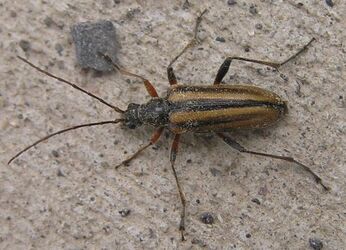 This rather beautiful Cerambycid beetle fell out of a Prickly Rose in Riverdale, Edmonton. This was a very hard one to identify with so many look-alikes, it was named Stenocorus vittiger, Cortodera longicornis and more before its I.D. was finally confirmed as Pidonia densicollis. This is a more rarely-encountered insect and my photo right is probably one of the only two living specimens photographed (other being this one) on the entire face of the Earth. Just like the photos on Phymatodes dimidatus and Pogonocherus mixtus which are most likely one-of-a-kind. Cerambycid beetles are widely unknown, for some reason not enough people study them, probably because they are not that easy to find.
Ad blocker interference detected!
Wikia is a free-to-use site that makes money from advertising. We have a modified experience for viewers using ad blockers

Wikia is not accessible if you've made further modifications. Remove the custom ad blocker rule(s) and the page will load as expected.