Phaenops fulvoguttata (Harris, 1829)
Edit
Arthropods (Arthropoda)---Insects
(Insecta
)---Beetles (
Coleoptera
)----Polyphaga---True and False metallic wood-borers (Buprestoidea)----True metallic wood-borers (
Buprestidae
)----Buprestinae----Melanophilini----Phaenops----P. fulvoguttata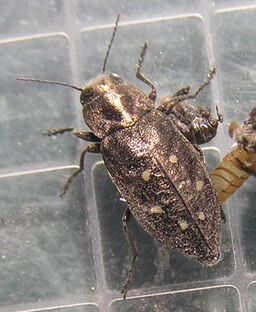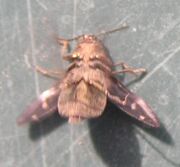 "Hexagon jewel beetle"  (not true species name) was given because the placement of spots on the Elytra, though there is some variation and some specimens do not have the 6 spots, such specimens can be hard to identify from other Metallic wood-borers..
Ad blocker interference detected!
Wikia is a free-to-use site that makes money from advertising. We have a modified experience for viewers using ad blockers

Wikia is not accessible if you've made further modifications. Remove the custom ad blocker rule(s) and the page will load as expected.