A black flower Longhorn beetle (Kirby, 1837)
Edit
Arthropods (Arthropoda)---Insects (
Insecta
)----Beetles (
Coleoptera
)----Polyphaga----Chrysomeloidea----Longhorn beetles (
Cerambycidae
)----Lepturinae----Lepturini---Grammoptera-----G. subargentata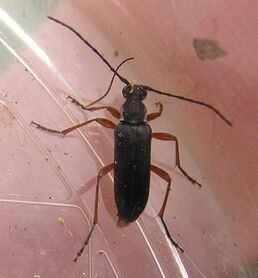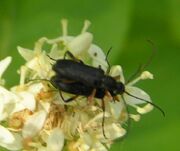 This is just one of the many "Lepturinids" in the subfamily Lepturinae (Flower Longhorns) that may appear on a nearby bush or plant in your garden. This species seems to be most often encountered on Red Osier Dogwood shrubs. In mid-June when this species is the most numerous they will typically fly around and land on your clothing. Unlike the larger wood-boring beetle these are more peaceful and feed on mostly pollen from flowers which also means if they do bite (which is rare) it won't be as painful.
7-9mm~.
Ad blocker interference detected!
Wikia is a free-to-use site that makes money from advertising. We have a modified experience for viewers using ad blockers

Wikia is not accessible if you've made further modifications. Remove the custom ad blocker rule(s) and the page will load as expected.