Dicerca tenebrica  (Kirby, 1837)
Edit
Arthropods (Arthropoda)----Insects (
Insecta
)----Beetles (
Coleoptera
)----Polyphaga----Metallic wood-boring beetles (
Buprestidae
)----Dicercini---Dicerca----D. tenebrica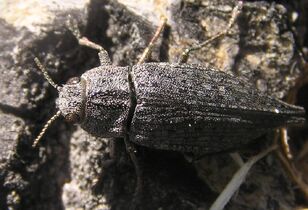 Flathead poplar borers are some of the larger species of jewel beetles, they have a long point (name?) at the end of their abdomen which is characteristic in Dicerca jewel beetles. Look for these on sunny tree bark and low branches of Aspen poplar and Pine trees. Adult females lay eggs under bark and the larvae (known as Flathead borers, because they are very flat, this makes it easier for larvae to move around) develop and stay in the tree trunks for about 2-5 years, when the adults hatch they use their strong jaws to cut a hole out of the tree to escape from.
~15-19mm.
Ad blocker interference detected!
Wikia is a free-to-use site that makes money from advertising. We have a modified experience for viewers using ad blockers

Wikia is not accessible if you've made further modifications. Remove the custom ad blocker rule(s) and the page will load as expected.