Macronaemia episcopalis (Kirby, 1837)
Edit
Arthropods (Arthropoda)---Insects (
Insecta
)----Beetles (
Coleoptera
)---Polyphaga---Cucujoidea----Ladybird beetles (
Coccinellidae
)----Coccinellinae----Coccinellini----Macronaemia----M. episcopalis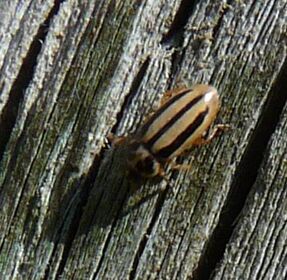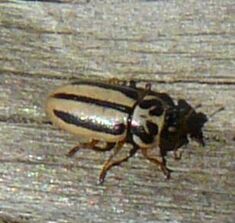 This ladybird is a marsh-dwelling species, appearing in areas near water with many
Cattails
. The Episcopalian ladybird (apparently has no recognized English name, but I still use one) is probably the second most common marsh-dwelling species, with the commonest being the Marsh, Water or 19-spotted ladybird (
Anisosticta bitriangularis
) . This species appears in April and disappears somewhere around October (as in "disappears" it is probably hibernation but I will have to check that at some point). The stripes on the elytra seem to be typical of marsh-dwelling insects as they probably match the cattail and sedge background. John Acorn writes that the Episcopalian "is another unconfirmed aphid predator"; it seems many of Alberta's species are widely unknown. It is understandable however, how are you supposed to find out unless you see one eating an aphid? Put in a container with many different insects?
Ad blocker interference detected!
Wikia is a free-to-use site that makes money from advertising. We have a modified experience for viewers using ad blockers

Wikia is not accessible if you've made further modifications. Remove the custom ad blocker rule(s) and the page will load as expected.