Calvia quatordecimguttata
Edit
Arthropods (Arthropoda)---Insects (
Insecta
)---Beetles (
Coleoptera
)---Polyphaga---Cucjoidea---Ladybirds (
Coccinellidae
)----Calvia----C. quatordecimguttata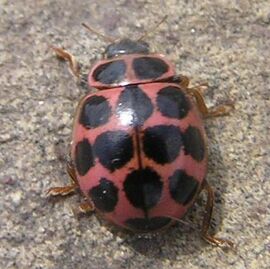 This species is quite remarkable, in North America you are familiar with the basic pink, black, yellow marked ladybird, but across the world in Europe is the same species, but completely different shape, size and majorly different larva.  Another odd thing is that in Europe there is only one colouration; brown with 18 white spots (there is a
very
similar species also found known as the 18-spotted ladybird), unlike the 4+ different variations in North America.  This species is not often seen, since they are normally somewhere up in the trees, but can found down on fences and low branches.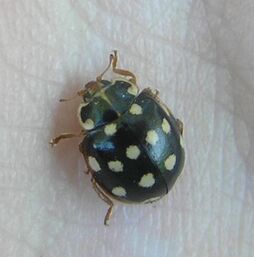 This species is also known as the Polka-dot ladybird, which better suits it.
~6-7mm, whereas the European type is from ~4-6mm.
There are 2 basic marking patterns found in Alberta, I do not know if the black with two red patches type is found in Alberta.
Insects of Alberta (Click other 2 photos for different forms)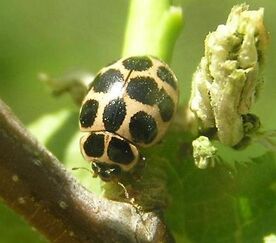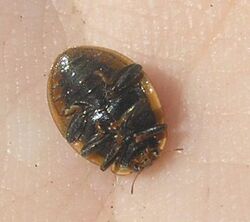 Ad blocker interference detected!
Wikia is a free-to-use site that makes money from advertising. We have a modified experience for viewers using ad blockers

Wikia is not accessible if you've made further modifications. Remove the custom ad blocker rule(s) and the page will load as expected.