Flea beetles
Edit
Arthropods (Arthropoda)---Insects (I
nsecta
)----Beetles (
Coleoptera
)---Polyphaga----Chrysomeloidea----Leaf beetles (
Chrysomelidae
)----Galerucinae----Flea beetles (Alticini)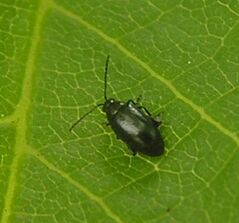 Flea beetles are herbivorous members of the tribe Alticni is the family Chrysomelidae and some are known for destruction of garden plants when they appear in large numbers. As most gardeners will also discover is that these are near impossible to catch. The enlarged hind leg femora of flea beetles make them well adapted to jump into the air, with very few species not being able to; they are very hard to approach and when they jump their small size makes them disappear instantly.  
The best time to approach and capture/ photograph these is when their antennae is low down; when their antennae is at 90 degrees they are more active.
Adults and larvae feed on leaves, flowers or roots depending on the species.
 Oriental flea beetle                            
 ???? ????
 Copper flea beetle                    
Altica sp.

Metallic blue flea beetle
    Altica sp. flea beetles
Metallic blue/purple flea beetle
Altica sp. flea beetles

Striped flea beetle
Phyllotreta striolata
Yellow patch flea beetle


?????

Large flea beetle